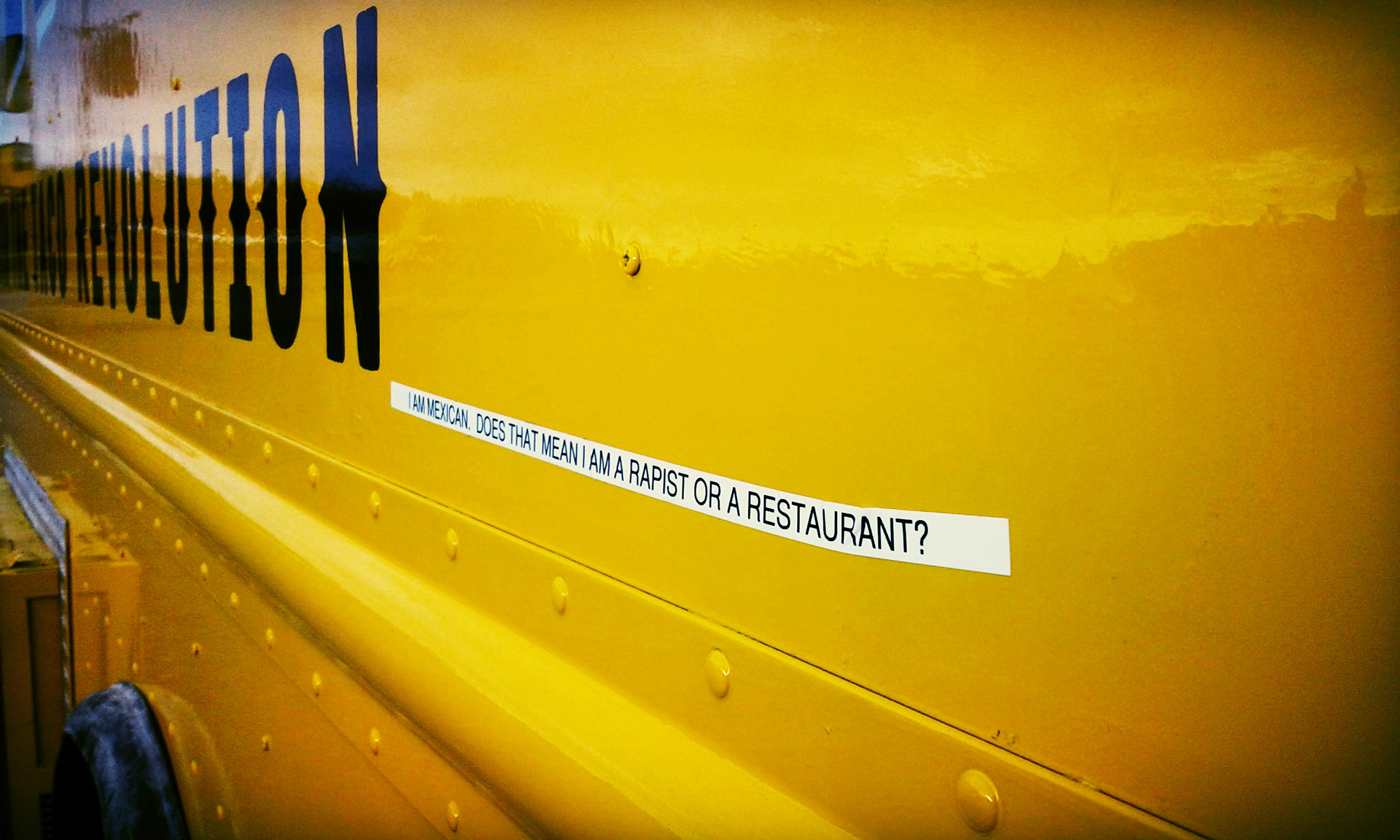 I AM MEXICAN is part performance, part vandalism, part sticker art and part social activism. It was enacted as part of The Weave News "Dissecting Boston" series. During this project I researched and actively dissected the hidden borders that partition contemporary New England. 
A taco truck has appeared on the Plum Island Turnpike.  Since 2014, the taco truck has become an essential part of the Plum Island experience. Parked in the parking lot of the Plum Island Airport, the truck serves tacos to the hungry New England tourist.  The food truck has received stellar reviews from the Boston Globe and other local newspapers.  In past years, its brand was a Mexican sombrero, its backdrop, ocean waves.  The owner and the costumers of the food truck are not Mexican. The Mexican cuisine and its image was part of a branding scheme. The owner had previously considered opening a steak food truck, but then decided to go with a flavor that would be "most popular." This past year, the food truck has been repaired and "rebranded." The sombrero has been replaced with a fist holding a taco.  The fist is reminiscent of activist stencils.  The symbol of socialists and social resistance has been coopted to sell Mexican food.  The food truck's new slogan is: 
"Join the Taco Revolution."
The signifiers of protest and Mexican identity are for sale on the Plum Island Turnpike.  They are used as branding mechanisms, masking the food truck's image. These are the masks that are twisted, projected. I am cast within the masks that people have already seen.  My ethnicity has been stolen by a food truck and my very acts of resistance are an incentive for consumption.  Cultures can be foodified just as easily as they can be dehumanized.  In both cases, the culture is consumable. Racism comes in all shapes and flavors. 
Hard shell or soft shell, anyone?
This game of signifiers is a slippery process. It is on this borderline where I slip from food truck to an invasive army of gangsters.  When you don't see me (and you project your fantasy) you are complicit in the violence of masking. There is a very thin, liquid membrane between the different border masks of misrepresentation. Between a restaurant and rapist, you forget to look at me. It is not a coincidence that the current president was elected into office. He is president of a society that projects spectacles to control their others, masking their desires and their fears. 
I placed a sticker on the Plum Island food truck: black and white covering its new shinny yellow surface.  The small letters act as a call for attention. It is a personal statement, my act of rebellion.
I AM MEXICAN: DOES THAT MEAN I AM RAPIST OR A RESTAURANT?